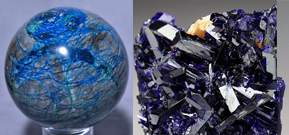 Photo of Azurite in Processed & Rough Form
Azurite is a mineral with a hardness of 4 out of 10 on the Mohs scale of mineral hardness [?]. These Monoclinicly structured gems are made of copper hydroxycarbonate, their full chemical compound being Cu3(OH)2(CO3)2.
Azurite is a gorgeous stone that when polished into a sphere may look very much like the planet earth. It's blues, and greens look like oceans and forests.
It gets its name from the bluish color. The word azure means bluish purple in Old French and Middle English. In Spanish azul is blue.
This gem is usually only polished as it is very soft, and can not hold a facet well. (4 out of 10 on the Mohs scale)
Looking for Azurite? Check near current and previous copper deposits.
The specific gravity [?] for Azurite is 3.77, it's refractive index [?] is 1.73-1.84, and it's double refraction [?] is 0.11.
History
Azurite is used in jewelry, but has been used in the search for copper deposits. It's use as a die dates back hundreds maybe thousand of years.
Industrial Usages
Besides helping miners find copper, Azurite has and is also used in creating die. Large amount of the mineral are ground up into a fine powder for use in industry.