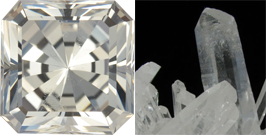 Photo of Barite in Processed & Rough Form
Barite is a mineral with a hardness of 3 out of 10 on the Mohs scale of mineral hardness [?]. These Orthorhombicly structured gems are made of barium sulfate, their full chemical compound being BaSO4.
Barite also called Baryte or heavy spar is a clear to yellowish to blue mineral that is very soft and not well suited for making of gemstones. (Its a 3 on the harness scale). Its found near lead-zinc mines within limestone deposits.
All in all a nice item for a collector, but in terms of long term jewelry this is not a very suitable gem for rings, and necklaces as it will break and shear apart when contacting harder surfaces.
The specific gravity [?] for Barite is 4.45, it's refractive index [?] is 1.63-1.65, and it's double refraction [?] is 0.012.
History
Has been used for drilling fluids. Please read below.
Industrial Usages
Barite is very useful in terms of its ability to prevent blowouts by acting as a weighting agent for drilling fluids. Barite / Heavy spar is used in larger quantities in terms of percentages the further down you drill