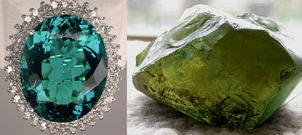 Photo of Apatite in Processed & Rough Form
Apatite is a mineral with a hardness of 5 out of 10 on the Mohs scale of mineral hardness [?]. These Hexagonally structured gems are made of calcium phosphate, their full chemical compound being Ca(F,Cl)Ca4(PO4)3.
Apatite is a gemstone that appears similar to tourmaline in its blue green form. It comes in yellow, green, pink, purple, violet, clear, and cat's eye. The most popular and valuable versions of Apatite are currently the blues that look like tourmaline. In fact its Greek name means "cheat" because it's often passed for other more valuable gems.
Apatite streaks white to white yellow. The light green versions of this stone has been nicknamed the asparagus stone for obvious physical reasons.
Quality gems in the blue range are valued somewhere between $20 and $450 a ct.
In general this gem can be found in igneous and metamorphic rocks
The specific gravity [?] for Apatite is 3.2, it's refractive index [?] is 1.63-1.64, and it's double refraction [?] is 0.003.
History
First found by A.G. Werner in 1786
Industrial Usages
Apatite is an ore mineral. Contains high levels of phosphate.