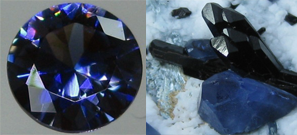 Photo of Benitoite in Processed & Rough Form
Benitoite is a mineral with a hardness of 7 out of 10 on the Mohs scale of mineral hardness [?]. These Hexagonally structured gems are made of barium titanium silicate, their full chemical compound being Ba TiSi3O9.
Benitoite is a rare gemstone / mineral that fluoresces when lit by black lights. It gets its name from San Benito County, California where it was first found.
This gem is almost always blue (it was originally thought to be a sapphire) but also has variations in purple, pink, and clear.
Gem prices seem to fluctuate but a few hundred dollars per half ct is common. Why so expensive? The quality gems are only found in California, and no where else in the world.
Benitoite is often time confused with blue sapphire and tanzanite.
The specific gravity [?] for Benitoite is 3.67, it's refractive index [?] is 1.76-1.80, and it's double refraction [?] is 0.047.
History
It was first discovered in 1907 by James Couch. It has since become the official state gem for California.
Industrial Usages
Very limited quantities and the rarity of Benitoite make it impractical for industrial usage.