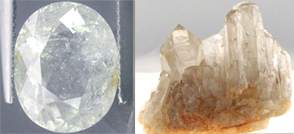 Photo of Achroite Tourmaline in Processed & Rough Form
Achroite Tourmaline is a mineral with a hardness of 8 out of 10 on the Mohs scale of mineral hardness [?]. These Trigonally structured gems are made of borosilicate, their full chemical compound being Na(Li,Al)3Al6(BO3)3Si6O18(OH)4.
Colorless Tourmaline, also known as white or Achroite Tourmaline is the name given to the clear or colorless version of Tourmaline. The word achroite is Greek for colorless.
If you are into birthstones then Achroite Tourmaline is one of the ones used for October. If you follow the zodiac then it's used to represent Libra.
Tourmaline in general is found on every continent and is possibly the most versatile gem in terms of color variations. If you buy white/clear tourmaline of a low grade it may have at one time been pink. Heat is applied to pink tourmaline to turn it white sometimes.
Where is tourmaline found? In general tourmaline can be found in Africa, Brazil, Canada, Madagascar, Sri Lanka, Canada, United States, and Tanzania.
The specific gravity [?] for Achroite Tourmaline is 3.06, it's refractive index [?] is 1.62-1.64, and it's double refraction [?] is 0.018.
History
Ancient Egyptians believed it to be a magical gem that traveled to the surface of the earth from the core. It's electrical and magnetic properties were thought to grant the holder special mental and spiritual powers.
Industrial Usages
Tourmaline is used in some cosmetics. In general however due low availability of high quality tourmalines this gem is not widely coveted for industrial applications.