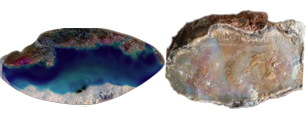 Photo of Agate Chalcedony in Processed & Rough Form
Agate Chalcedony is a mineral with a hardness of 7 out of 10 on the Mohs scale of mineral hardness [?]. These Trigonally structured gems are made of silicon dioxide, their full chemical compound being SiO2.
Agate Chalcedony differs from other Chalcedony in that it often has distinct banding. In fact some slices of Agate may appear to have banding similar to that of tree rings. Due to its porous nature it is often colored (by humans) black, red, green, or blue to further increase its visual appeal.
Agate Chalcedony is found in Brazil, China, Germany ,Hungary, Mexico, Uruguay, the United States, and many other countries around the world.
Slices of this gem are usually very affordable and a staple of amateur and professional collectors alike.
Some but not all Geodes and Geode slices may contain Agate.
The specific gravity [?] for Agate Chalcedony is 2.61, it's refractive index [?] is 1.53-1.54, and it's double refraction [?] is 0.004.
History
Agate was used during the bronze age to create rings, and beads, stamps and even ancient Greek seals. Beads of agate may have been used for bartering for thousands of years.
Industrial Usages
It is sometimes used in the manufacturing of electronic devices.