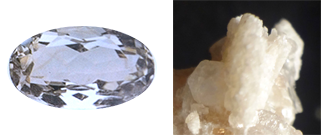 Photo of Albite in Processed & Rough Form
Albite is a mineral with a hardness of 6 out of 10 on the Mohs scale of mineral hardness [?]. These Triclinicly structured gems are made of sodium calcium aluminosilicate, their full chemical compound being (Na,Ca)AlSi3O8.
Albite is a member of the feldspar species as is predominantly a white or whitish mineral. A fine Albite gem will be colorless (mostly), or colored similar to moonstone.
Some of the better specimens have been found in upper North America including the United States and Canada
In 1815 Albite was given the Latin name albus which literally means white.
Albite astrological sign is that of Aquarius.
The specific gravity [?] for Albite is 2.64, it's refractive index [?] is 1.54-1.55, and it's double refraction [?] is 0.0009.
History
While Albite has surely been found and used for centuries, it was not scientifically cataloged until 1815.
Industrial Usages
Albite is ground finely and used to provide rigidity in modern ceramics.